Clan of Xymox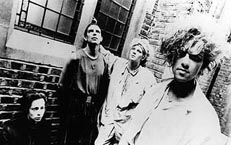 Clan of Xymox (1985) - Original line-up
- Pieter Nooten / Frank Weyzig / Anke Wolbert / Ronny Moorings -

Clan of Xymox was founded in Amsterdam (1984). They
signed for the leading English independent label 4-AD,
at that time home of (among others) the Cocteau Twins,
Dead Can Dance, Throwing Muses. In 1985 their first
album was released; "Clan of Xymox". Recorded at
Edinburgh's famous Palladium Studios and co-produced
by 4AD-boss Ivo. An album full of tumbling electro beats,
throbbing sequencers and moody vocals.Their second
album "Medusa" (1987) was mostly a dark record, in
places a chilling exercise in atmospherics and modern
pop dynamics. It was with this album that Xymox gained
a "Cult" status in Europe.
In Oktober 1988 they left 4AD and signed to Wing, a
division of Polygram. The band shortened their name
to Xymox and their third album "Twist of Shadows" (1989)
was released. Xymox were now beginning to cause a stir
in America. The band embarked on sell out tours around
the world and feature in college, alternative and main-
stream Billboard charts.
The band's fourth album "Phoenix" (1991) was their last
album on Polygram and had ecstatic reviews but sold not
as much as their predecessor, despite of their loyal U.S.
fan base.
After the Phoenix U.S. tour in 1991, all Xymox core
members went different ways. Ronny Moorings is now
the only soul behind the name Xymox. Xymox is releasing
several albums and is playing live with an ever changing
line-up of band members......