Love Like Blood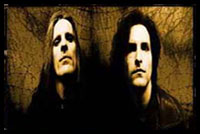 Gunnar Eysel / Yorck Eysel
Born For Bliss is quite honoured to be linked to this
legendary Gothic Rock band from germany. It was
Gunnar Eysel who started the ball rolling for Born
for Bliss and connected them to the Death Wish Office
label.
In 1998 Love Like Blood asked Frank to write a song for
their "Snake Killer" album......
Click on this link to listen to "Ylene"