StarGazing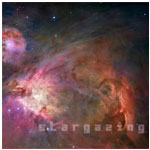 .....the year 2006. After completing several individual projects,
two ex Born for Bliss members decided to join forces again
to produce new music. Frank just wrapped up a filmmusic-
project and Remco had finished a tour of several liveconcerts focused on ambient loopbased music. Indeed the right time
to join hands again.....

For their new project, the main source of inspiration was the Internet. Inspired by the many mysteries of our time; conspi-
racies, alien abductions, ufo encounters and other strange
events, Frank and Remco searched the internet for unusual sounds and recordings. These elements give shape to the StarGazing project in a very peculiar way.....
While searching the Internet, they came across an interview
in which a woman claims to be abducted by aliens. This
interview triggered the initial idea for the StarGazing project.
The song that was build around this interview reflects the
mood and state of mind of the woman, who is clearly
emotionally affected by the experience.....

Writing the music for the album, it became clear that all the
songs were breathing this same strange emotion. Even the
lyrics are being affected in the same way and drift seamlessly from dream to reality. After editing, mixing and placing the
songs in a particular order, there appears to be an underlying storyline. The sory of a woman who seems to have lost her
grip on reality. A story being told from the perspective of the woman's friend.

But, is this woman really losing grip on reality after all?........
Anyway, after completing the album, to Frank and Remco it
is absolutely clear that there is something out there,
and they invite you to join them, to participate in this modern
Quest for the Holy Grail.


Let's go StarGazing......

Go to the Links page to visit the StarGazing website!